Biografie
Eddy Flecijn studeerde aan het Koninklijk Vlaams Muziekonservatorium te Antwerpen accordeon, harmonie, contrapunt en fuga (waarvan hij de Eerste Prijzen behaalde).
Hij vervolmaakte zich in de compositie bij de heren Willem Kersters en Luc Van Hove.  Hij behaalde in 1998 het diploma "Meester in de muziek optie compositie" aan het Lemmensinstituut.
Hij nam deel aan verschillende masterclasses en concerten in Frankrijk en Polen (Friedrich Lips, Lech Puchnowski, Viacheslav Semionov, Mogens Ellegaard, …).  Reeds vele jaren werkt hij samen met internationale concertaccordeonisten (Alexander & Vitaly Dmitriev, Vladimir Zubitsky, V. Semionov, …)
Na zijn deelname in meerdere ensembles is hij nu accordeonist/bandoneonist in het sextet "Orquesta Atipica" en het trio "Vision-On".
Voor zijn compositorische activiteiten behaalde hij o.a. de volgende prijzen:
– "Koninklijke Harmonie van Antwerpen" en "Stad Antwerpen"
– "Albert De Vleeshouwer"
– "Belgische Artistieke Promotie – S.A.B.A.M."
– "Premio Internazionale di Composizione: Città di Castelfidardo – 2002" (Deze compositie "Acquaviva" werd bekroond tot plichtwerk 2004 en 2005 van dit internationaal solistenconcours.  Voor de eerste maal in de geschiedenis is het een Belgisch werk.)
Hij schreef en creëerde vele Vlaamse composities in opdracht van André Posman, manager van kamermuziekcentrum "De Rode Pomp".
Hij is leraar aan de Academies voor Muziek, Woord en Dans te Sint-Niklaas, Hamme en Dendermonde, en aan het Lemmensinstituut te Leuven.
Hij schreef, naast talrijke bewerkingen, muziek voor orkest, accordeon, piano en kamermuziek.
Opnames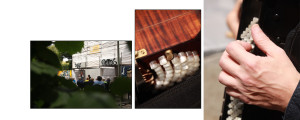 Metamorphoses
Concertsuite (Fuga, Funk, Swing)
Concertsuite (Tango)
Hilda
Tears
Een Gedreven Kunstenaar
3 Duo for Accordion and Piano
Toccata & Fuga
In a Hurry (fl, cl, perc, pno, vl, vla, vc)
Metamorphoses (2 acc., piano & strings)
Rapsodia española al estilo flamenco (vl, acc)
A Path Of Life (parts) (fl, acc, vc, pno)
"… nen tocht in al dat groen …" (parts) (baritone, fl, acc, vc, pon)
Ode aan de doorvliegers van de lucht (fl, acc)
Acquaviva (acc solo)
Capriccio (acc solo)
Varianten (acc solo)
Sporen – Railways (parts) (acc solo)
Milonga (choir, bandoneon, pno)
The Birds (flute quartet)
Waves On Fire (parts)(flute quartet)
Inventie in C (acc solo)
Inventie in e (acc solo)
Inventie in F (acc solo)
Miniatuur 4 (acc solo)
Miniatuur 6 (acc solo)
Miniatuur 7 (acc solo)
Nuits Tziganes
promotie dvd from hammedia on Vimeo.